1 Dec
1 Dec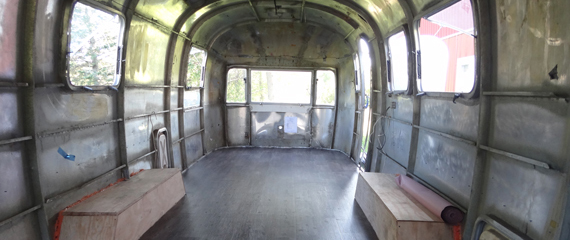 ---
After toying around with the idea of installing fake hardwood planks, we opted for vinyl sheeting instead. Covering our plywood subfloor with vinyl was easy and done in one day. Now if only we could seal the shell so we can take the tarp off of our Airstream!
Whats in our toolbox:

---
1. Large roll of Kraft Paper – You can buy this at any hardware store, do yourself a favor and get the heavy duty kind to prevent tears. Making a paper template first of your trailer prevents you from making mistakes when you cut your vinyl. Make sure you also pay close attention to the orientation of your craft paper before you cut your vinyl, we  flipped our vinyl upside down so it would come out right. Think twice, cut once!
2. Utility Knife – You will need this to touch up the vinyl once you have made your basic template and put it inside the trailer. This was the most time consuming part for us. You have to smooth out the vinyl as you go and cut the excess vinyl off around the edges to create a custom fit. This was especially tricky around the curved edges of our Airstream and the wheel well covers.
3. Extra Blades – We found that our blades kept scraping against the inner aluminum channel, thus dulling our blades. Extra blades are a must if you don't want to pull your hair out!
4. Grease Pens or chalk – These come in handy once you have made your paper template so you can lay the paper on the vinyl and trace. Then just cut the vinyl along the lines with scissors. Make sure to pick a color that will contrast.
5. Painters tape – We used the painters tape to tape our paper template together inside the trailer.

6. Vinyl Flooring – We ultimately decided on a 12 x 30 ft sheet of  Tarkett Magnitude 12 Ft Wide Sheet Vinyl in a grayish wood color called "Fumed". Model Number: 19143
---
We were in Upper Michigan when we decided to tackle this project, so we got all of our supplies at a local Menards store. We trolled the isles for awhile looking at all of the options for our flooring. There was a sales associate who was very knowledgeable and explained to us the benefits of glueless vinyl flooring which made our decision very easy.
The process is simple, create a template inside your trailer with butcher paper and tape first, and then lay it on top of your vinyl and cut. Other than the supplies listed above you need a large area to lay the vinyl out flat and cut it, we sort of winged it in the grass, but a paved driveway would have been much easier and more accurate. The more help the better (vinyl  is heavy); I suggest recruiting at least one other person to help you, and  a few cold ones never hurt either!

*I was not financially compensated for this post. I received a free sample for review purposes. The opinions are completely my own based on my experience.*