11 Jun
11 Jun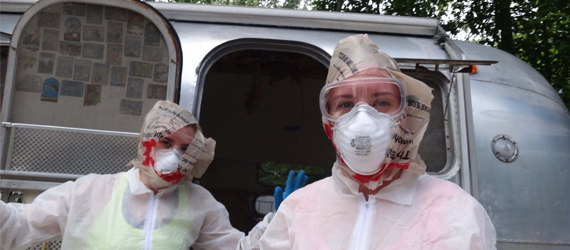 ---
After a few long hard days of work our Airstream's interior is completely gutted to it's aluminum shell. There was a lot of anticipating building up to our "Insulation Removal" day, so we went ahead and bought all of our supplies prior. We knew working with fiberglass was going to be messy and we wanted to remove all of it in one day. We took another day to power-wash, sweep, and remove all wires and plumbing.
Despite us finally being able to take a breath and sigh of relief; everyone keeps telling us the hard part is yet to come. It's true it really didn't take a lot of brains to rip, tear, and bash the interior out. However, wearing a full body suit, goggles, and respirator in 90 degree VA heat kicking up dust from mouse droppings and fiberglass in a humid trailer is hard work.
Now all that is left is a partially rotting floor and an aluminum shell, our blank canvas!
Whats in our toolbox:

---
1. Painters Coveralls - Fiberglass is nasty stuff, you will definitely need to protect ALL of your bare skin. We decided to use these inexpensive painter's coveralls. The alternative would be to wear long sleeve clothing and a hood, but note that you will probably want to trash whatever you wear afterward because it will be covered in fiberglass shards. Our coveralls were hoodless, so we improvised with plastic bags around our heads.
2. Safety Goggles - At one pointed it looked as if it was "snowing" fiberglass in the trailer. Goggles are the only way to go!
3. Fiberglass Respirator - We had already experienced some respiratory "issues" from just tearing out the furniture. Due to the age of our trailer, our fiberglass insulation was crumbly, moldy, and mouse and ant infested. As it crumbled off of the walls we realized respirators were needed to save our lungs.  They sell respirators in the painting or tool section at most hardware or warehouse stores.
4. Man-Power – Perhaps the most important resource to removing our insulation was Man Power, and no I cannot provide a link for this. We recommend recruiting any brothers, cousins, dad's, significant others, or friends you have. There are just some things we as women can not do – including but not limited to tearing through aluminum walls, wires, and plumbing like a Tyrannosaurus Rex. In our case, we needed a few T-Rex's. Thank you Kevin, Scott, and Josh.
5. Gloves (Disposable) – We went through a few pairs of these as we tore the insulation off of the walls. It seemed as if it was stuck on originally with a layer of adhesive and took some pulling to remove. Erin's hand was actually bleeding at one point from the fiberglass seeping through her gloves. Go for the most inexpensive kind you can find, but make sure they are coated with a layer of rubber or silicon to protect your palms and fingers. Again, you will be throwing these away.

6. Pressure Washer - We decided because we were replacing our floor boards anyway to pressure wash the interior skins. The fiberglass glue left a fuzzy sheen on most of the panels and would be too time consuming to scrub off by hand. I would not recommend the pressure washer if you are trying to salvage your flooring, as it will create water damage. Our water just leaked out of the existing holes in the floor onto our driveway.
---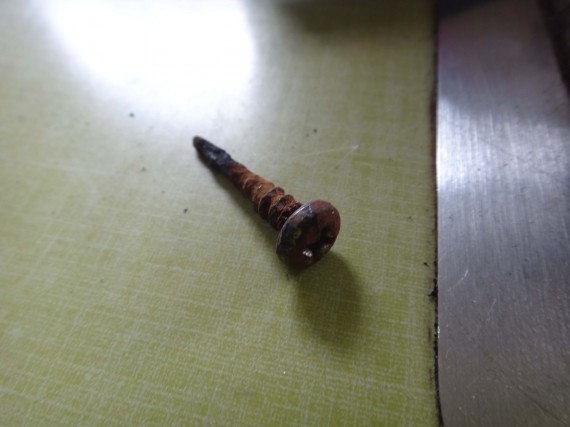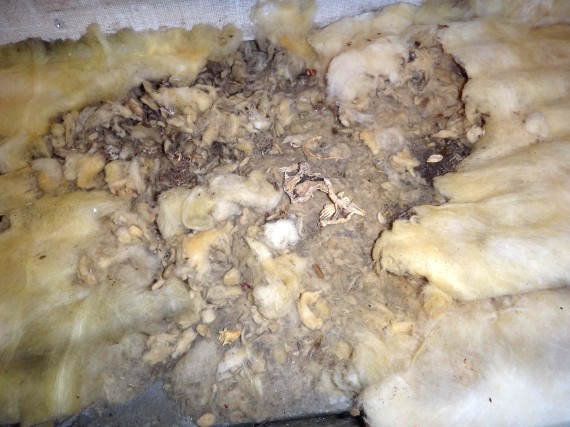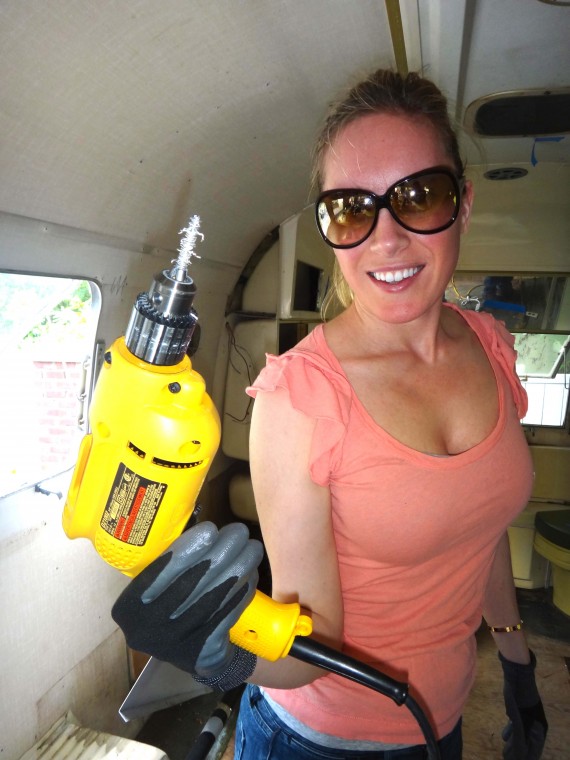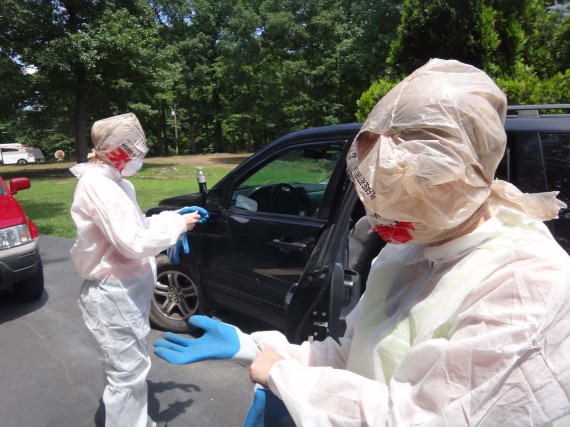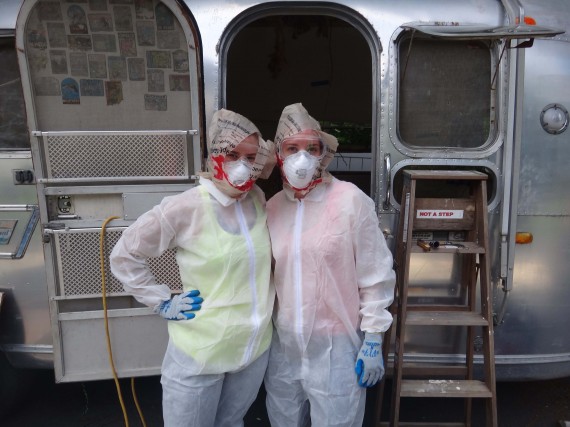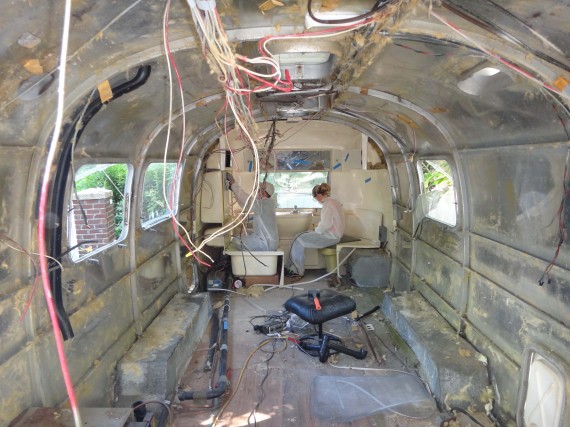 ---
We are in now the process of figuring out our interior layout, which includes measuring everything, making never-ending lists, and buying parts. Meanwhile we are getting estimates on the cost to replace the floor. We originally wanted to do this ourselves, but due to our time constraints we are thinking about sourcing for outside help. Due to the scale of this project, we have reassessed our goals and now our new mission is to have it "camp ready" in time for our trip in August.