25 Apr
25 Apr

Here are some photos of our 1969 Airstream from the day we picked her up in Elmira, NY. We drove up at night after we all got off of work for the day. I think we arrived at our hotel in Elmira at about 1am.
Erin and I brought along a checklist with us to check every thing before we finalized the purchase of our Airstream. We quickly realized our checklist was of no use as just about everything needed fixing. Welp! We threw that checklist away as it would have taken hours to diagnose our Airstreams problems. Dents, rust, mold, mouse turds, smells, water spots, mystery stains aside; we decided to take on the challenge.
"We'll take it!" – Famous last words haha…
Nothing that a little SISU can't fix!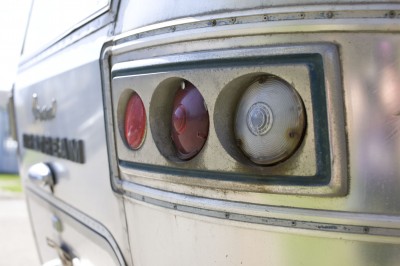 When the previous owner came to greet us he said "Wow! I was hoping y'all would be the dixie chicks! Well, close enough anyway!" Erin and I just looked at each other and burst out laughing.
Apparently the Dixie chicks like Airstreams? He may have thought I was the paparazzi because I was taking pictures of everything the entire time.